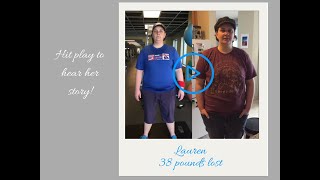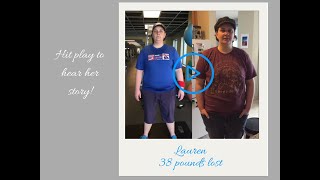 Lauren's video testimonial after completion of our Signature Program!
 Bodimatrix/KevenBrown.com was created to help others achieve their health and fitness goals and we would love to help you with yours! Hear what some of our clients have to say...
NEEDED HELP AFTER THREE HEART ATTACKS
I met Keven Brown at a fitness center to which I had directed myself after having suffered three heart attacks. It occurred to me that should I wish to live beyond a few years, it would be necessary to completely change a good deal in the way I lived. As the owner of a business, I was used to working fourteen hour days, eating standing up and drinking pots of coffee to maintain my energy level.
Somehow, Keven's intuition about my abilities led him to never accept from me less than what he felt I could achieve. Within the space of several years, Keven developed and executed a fitness regimen that challenged me and gave me an enormous feeling of confidence and energy. Military grass drills, boxing, sprints, free weights, plyometrics, body weight exercises: those and many more tools of the trade helped me to lose a great deal of weight and tone a body seriously out of shape and weakened after years of abusing food, alcohol and cigarettes.
Keven's practical, simple advice and information about nutrition pushed me to make significant changes to what I put into my body. At one point, Keven created a three times a week mid-day program at my office in addition to our daily routine when I felt I wanted to take my fitness to another level. It would be difficult to find somebody more invested in his client's goals. Keven's knowledge, work ethic and seriousness can only enhance your life.
 ~ Jim M. Orlando, FL
I SPELL SUCCESS - "J.E.A.N.S."
Walking 2 miles a day, working out at the gym 4 days a week and eating salads on a daily basis, you would think I would be one hot mama.  But after months of diligence and dedication controlling my food intake and exercise regimen with no results I decided to try the 28-Day Bodiblast Transformation Challenge.
It didn't take long until I started noticing results about midway through the program – increased energy and stamina.  I was feeling so good I tried on my jeans just to get an idea of how far I needed to go before I could wiggle them on.  Much to my surprise, I not only could wiggle them on, but I could zip them up and comfortable sit down in them!  Thanks to the Bodiblast challenge, now I spell success – JEANS.
 ~ Dawn P, St. John, IN
55 POUNDS LOST AND "NOT" FOUND!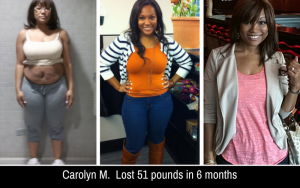 It was a blessing to have met Susan. Susan completely changed my entire thought process on nutrition and exercise. Her continuous push of healthy weight loss helped me go from 190lbs to 135lbs. I always remember Susan saying "What's the nutritional value" in anything I ate. Her techniques in the gym were very challenging, but phenomenal and I appreciate the encouragement she always gave when I wanted to give up on the last set of reps!
Most diets fail, but with the knowledge and tools she supplied me with I have maintained my weight loss for almost 3 years. With Susan's help I learned that successful weight loss was not just a quick fix for a pound or two, but a lifestyle that will last for a lifetime.  Susan was more than just a physical trainer; she became a mentor and my motivation to succeed.
~Carolyn M., Naperville, IL
HUSBAND AND WIFE ARE FALLING IN LOVE AGAIN...WITH WORKING OUT
My husband and I have been individually training with Keven for over 9 months. My husband who hates to exercise actually loves cardio boxing, it's a complete distraction as he has to pay attention and at the same time is really moving. He enjoys his cardio boxing so much he purchased his own set of gloves and fist wraps so he could practice even on the days he does not train with Keven. Keven is great at giving direction, guidance; tips and making boxing not seem like exercise. I have elected to do the personal fitness training which also incorporates cardio boxing.
I have lost over 15 pounds, lots of inches cause even my skinny jeans are loose and feel strong and healthy. I love my sessions with Keven because each one is custom tailored for me and we never repeat the same things. I am one who struggles with balance, coordination and never played team sports as a child so hence Keven has his workout working with me.
Keven has a mild/gentle demeanor, a true gentleman, for such a fit and fierce body. He is always patient and willing to demonstrate the exercises a million times. He offers helpful tips and tons of encouragement that makes you want to succeed and do the exercises properly. He provides meal plans as well as exercise routines for me to do on the days we don't train together. He always greets me with a warm smile and is a great guy who has become a part of my life... he's not only my personal fitness trainer but coach and confidante.
My husband and I have also had the pleasure of working with Susan who helped us with meal planning, goal setting for a healthier lifestyle and nutritional counseling. Although my husband and I are on opposite sides of the spectrum with eating habits, he's a carbaholic who is afraid of vegetables and I'm a protein queen afraid of bread and potatoes. Susan helped us to open our eyes and our minds to know what constitutes healthy eating and more importantly how to achieve it. Susan is smart and truly knows her stuff; she speaks not only with knowledge but passionate heart and soul. Our sessions with Susan were insightful and she packed a punch with tons of great ideas, recipes and neat tools to include an array of user friendly mobile apps.
I told Keven and Susan I wanted to lose weight, get toned and feel sexy; mission accomplished because of Bodimatrix!
~Tess E. Chicago, IL
AWESOME WORKOUTS... THEY "HIT" THE MARK EVERY TIME!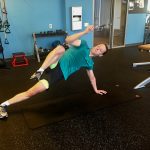 I've been working out with Keven twice a week for over a year and a half, focusing on boxing and resistance training. When I started I was relatively out of shape; I was doing some running so my cardio was relatively ok'ish, but my strength was nowhere to be found. The workouts have been amazing for getting in shape as well as for learning proper technique and movement, both for boxing and for exercises with weights.
The high-intensity nature of (cardio) boxing is something I still enjoy very much, as compared to just going running for a stretch of time. Nowadays with the help of Keven I've setup a schedule to work out pretty much 5 or 6 times a week, twice with Keven and the rest by myself, and I'm still very much enjoying every one of those workouts.
I can definitely recommend Keven. He's committed and I cannot recall any workout where he was even 5 minutes late.  He's got a good balance of knowing how much he can push you, i.e. not some motivational over doer who can push you into an injury, and he knows his stuff.
~Roderick K.  Chicago, IL
PUSH 'N' UP TO THE NEXT LEVEL
When I started working with Keven I thought it would just be a way to begin the process of getting back into shape, increasing my strength, and becoming acquainted with the gym I had joined. I figured I could take it from there after a few sessions. However, it's so easy to get into the rut of just using the elliptical, treadmill or whatever and tune out with headphones, thinking that's enough.
I soon realized the difference in my work outs with Keven as opposed to on my own was so great, I was hooked. He has a great variety of challenging exercises that keep me on my toes and are tailored specifically for me, based on where I am in terms of cardio and strength. There is no way I would be motivated enough to come up with this variety by myself. Working with him has been amazing as he pushes me to do more than I think is possible, always in a safe way. He watches closely to make sure I am always using the proper techniques, and I have learned so much from him.
When I started I could not even do a pull up or push up. Now I regularly incorporate them into my work outs. I look forward to what new routines he has tailored specifically just for me. It's been a fantastic experience and I highly recommend training with Keven if you want to take it to the next level!
 ~ Raissa S. Chicago, IL
28-DAYS TO CHANGE
I'm Antoine and I'm 55 years old. I work a very physical job, so endurance and strength are critical for my livelihood.  I noticed my level of fitness declining the last few years and I wanted to get myself back into "fighting" shape.  I started the 28-Day Bodiblast Transformation Challenge and noticed my body changing faster than I ever imagined.
Keven's Bodiblast workout videos ROCK.  They pack a powerful punch in only 30 minutes.  I've become stronger, with more definition and my body is "leaning" out.  Susan has helped me overcome years of fighting a SUGAR addiction.  People tell me all the time how great I look and they can't believe I'm 55…  I run circles around guys half my age and that's a GREAT feeling!  Just do it. It's very cool.
~Antoine B, Homewood, IL
I FOUND ME AGAIN!
Just finished the 28-Day Challenge and loved it.  First they give you easy to follow workouts, which you can do at a time convenient for you and second, they give you a meal planner for each week and lots of yummy recipes to make.  They also have online chats, so if you need help adjusting an exercise (I have bad knees) or if you just have questions.  They're there if you need encouragement, but not in your face, which is what I liked.
They do practically everything for you - what could be easier?   All you need is the desire and passion to find a "new you".  I'll admit it, I had my doubts when I  first started the program, but along the way I found that I not only lost weight and inches, but I found the person inside me that I thought I had lost and I can't thank them enough!
~Cindy F. Munster, IN
71 AND CARDIO BOXING...
Keven has been fantastic. I am a seventy-one year old woman with joint issues and Keven has been able to find exercises for me that keep me limber and has me building muscle mass again. I walk three to five miles daily so that was not a problem but losing muscle mass definitely was. I can only sing his praises. I love to see the look on peoples' faces when I tell them we also do a bit of cardio boxing.
~Mary G. Chicago, IL