Thanks for stopping by and taking the time to check things out! If you landed here, I could only assume you've been searching for a solution related to your fitness and nutrition.   Maybe you're looking to lose weight, gain muscle, lose body fat or become more physically active. Perhaps you want to tone up or increase your physical strength. Maybe your health is suffering, and you have no idea how to change your lifestyle with any lasting effect. Whatever your reason, you are searching for a change… that's where I come into play and will help you design a health and fitness program that works with your lifestyle and will get you the results you're looking for!
I focus on a holistic approach to a healthy lifestyle for both men and women 40 and older simple nutrition and fitness, no gimmicks or quick fixes. I will work with you if you're younger than 40.   In my 50s,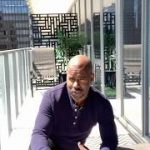 I know how to help those starting to notice how challenging it is to lose weight, become more robust, improve cardiovascularly, and maintain those gains.
I don't believe in shoving health supplements at you; yes, they work as long as you can afford them. I combine individualized fitness, nutrition, and whole foods and start with small changes and "mindful eating habits" that will help you reach your goals and, more importantly, maintain them. Listen to Lauren
I work with you from the inside out, focusing on inner strengths/weaknesses and triggers that either promote good habits or cause you to continue using bad habits that got you to this point! As we all know, nutrition is 80-85% of the struggle and will place the most significant part in your success or setbacks.
As a team, we can figure out your unique "roadblocks" (we all have them) and design an effective program that sets you on the right path and gets you moving forward, so YOUR dreams become your reality. Change does require ACTION! You took the first step and landed here for a reason. All I'm here to do is help you take the following steps in discovering your answer. If you are willing to do the work and commit, a healthier you is just around the corner.
Have faith in yourself and trust the process. Let your journey begin, and I promise it will be your best decision!
Your friend and coach,
Keven